Organizing your wedding seating chart can be one of the most complex and time-consuming tasks during wedding planning. Determining the ideal seating arrangement ensuring everybody is comfortably seated and in pleasant company, can be quite a challenge. You want to create an ambiance where guests can socialize and enjoy the celebration without awkward moments.
However, why go through the trouble of creating a seating chart the traditional way? Sketching it out on a large piece of paper, constantly making changes, and risking it being torn or destroyed can be frustrating, not to mention the tedious process of handwriting the names of guests on slips of paper and manually arranging them on the chart.
Fortunately, seating chart apps can simplify this entire process with just a few mouse clicks. These user-friendly applications allow you to create, modify, and visualize your seating arrangements effortlessly.
You can easily drag and drop guests' names onto virtual tables, ensuring that everyone is seated exactly where you want them to be. With the ability to easily adjust and rearrange the seating chart, you can accommodate last-minute changes without hassle.
These apps also offer additional features that make the overall planning experience even more convenient. You can easily import your guest list, assign meal preferences, and even keep track of RSVPs in one place. No more juggling multiple spreadsheets or handwritten notes! Everything is organized and accessible with just a few clicks.
So, say goodbye to the stress and frustration of traditional seating chart planning. Embrace the convenience and efficiency of the seating chart generator and enjoy a smoother and more enjoyable wedding planning process. Let technology work for you so you can focus on creating cherished memories with your loved ones on your special day.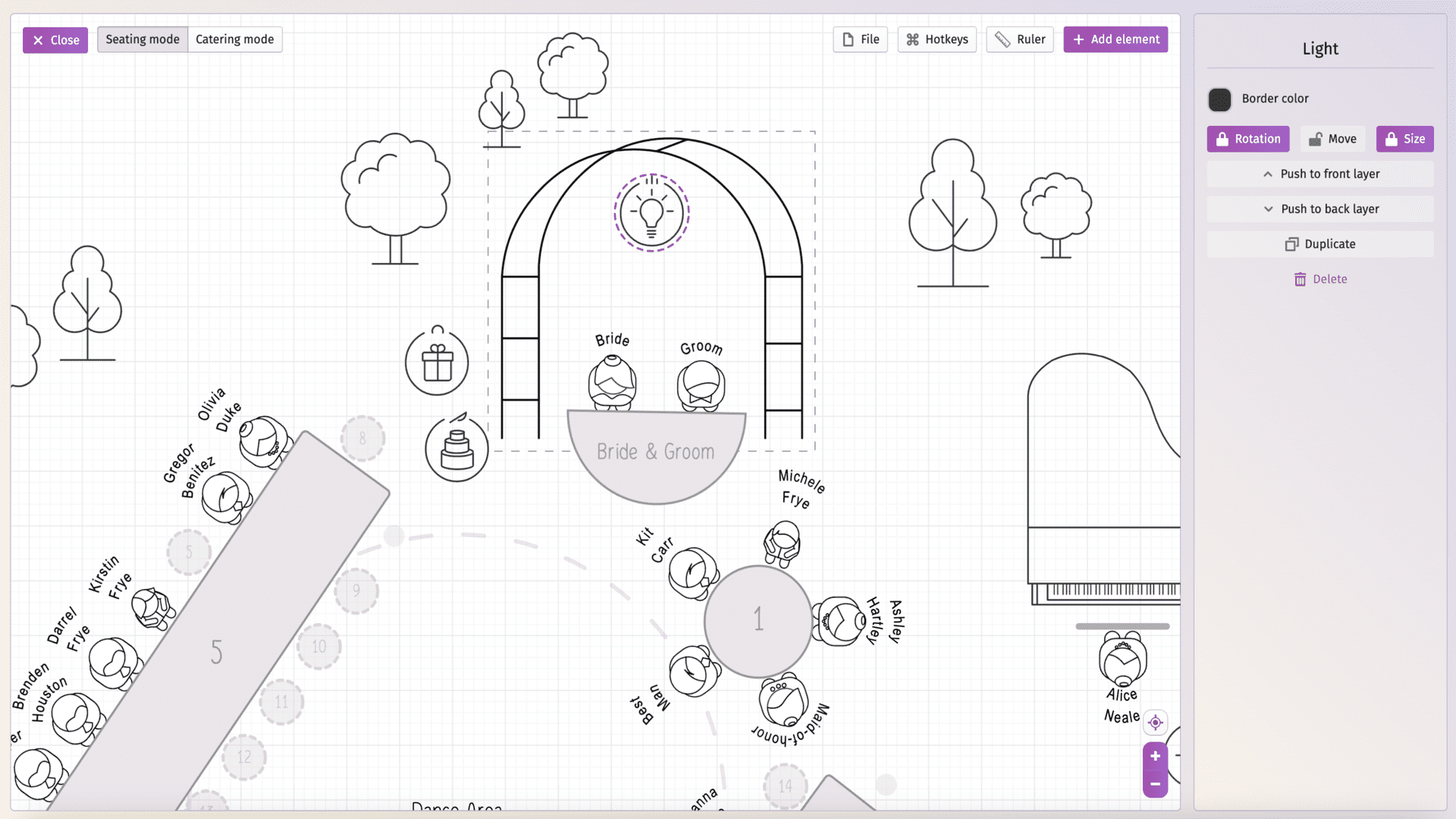 Helpful Tips
Here are some useful tips for arranging your wedding seating chart. It's best to seat children near or with their parents when it comes to seating them. You could even group children of similar ages, with the younger ones sitting closer to their parents.
For older guests or those with mobility problems, consider seating them at tables near restrooms for easy access. They might also appreciate being seated close to the head table, allowing them to partake in the festivities while still maintaining some distance from loud music or the dance floor.
Regarding single guests, aim to mix them with couples. Consider a ratio of two to four singles to a table of one to two couples. If you're assigning specific seats instead of just tables, arrange the seating in an alternating male/female pattern.
Finally, remember to scatter family members throughout the room. By dispersing them among the other guests, you allow them to mingle and get acquainted with everyone rather than confining them all to one table.
With these tips and the convenience of seating chart apps, you can now arrange your wedding seating chart easily and efficiently!
In conclusion, modern technology has transformed wedding planning – once an overwhelming and time-consuming task – into a significantly simpler and more enjoyable experience. Wedding seating chart apps can streamline the process, allowing you to visualize the seating arrangement, effortlessly adjust as needed, and import your wedding seating chart template in Excel into an online document.
These apps enable you to create a seating chart that ensures all your guests are comfortable and happy. Remember, the key to a prosperous wedding is attention to detail, and with these tools at your disposal, you're well on your way to creating a memorable experience for your guests.