Nowadays, smartphone cameras have almost replaced cameras, which have become equipment for professionals. However, more than the built-in photo editor is needed to process photos that should look favorable on social networks qualitatively.
For this purpose, choosing special applications designed for photo processing on mobile devices is better. With their help, you can correct the images with simple manipulations and immediately post them on the network.
Basic selection criteria
Photo editors are among the most popular smartphone applications, so their variety is excellent. Choosing the most suitable editor, you should be guided by the following parameters:
Comfortable interface. Unlike the PC, the smartphone has a small screen, making it challenging to consider small details. Accordingly, the photo editor should have a user-friendly interface, so you can easily find the tools you need and use them as efficiently as possible.
The breadth of features. Most editors offer only a variety of filters for photos, but often other features are required. The best choice would be an application that allows you to remove defects, add text or choose the perfect angle.
Price. Remember that free applications often have limited functionality, which requires a subscription to expand. An important criterion is also the compatibility of the photo editor with the smartphone's operating system.
Top 5 photo editors
Let's look at the most popular apps that make editing images on mobile devices easy and simple.
Snapseed
The main advantage of this photo editor is its versatility. With its help, you can correct portrait, landscape, and subject photography, and Snapseed is often used even by professional photographers. To save a lot of processing time, you can create presets in the tab "Styles." The app allows you to change and delete presets as needed and share them with friends.
Pros:
Easy to use.
It contains 11 basic styles.
No ads.
It is provided for free.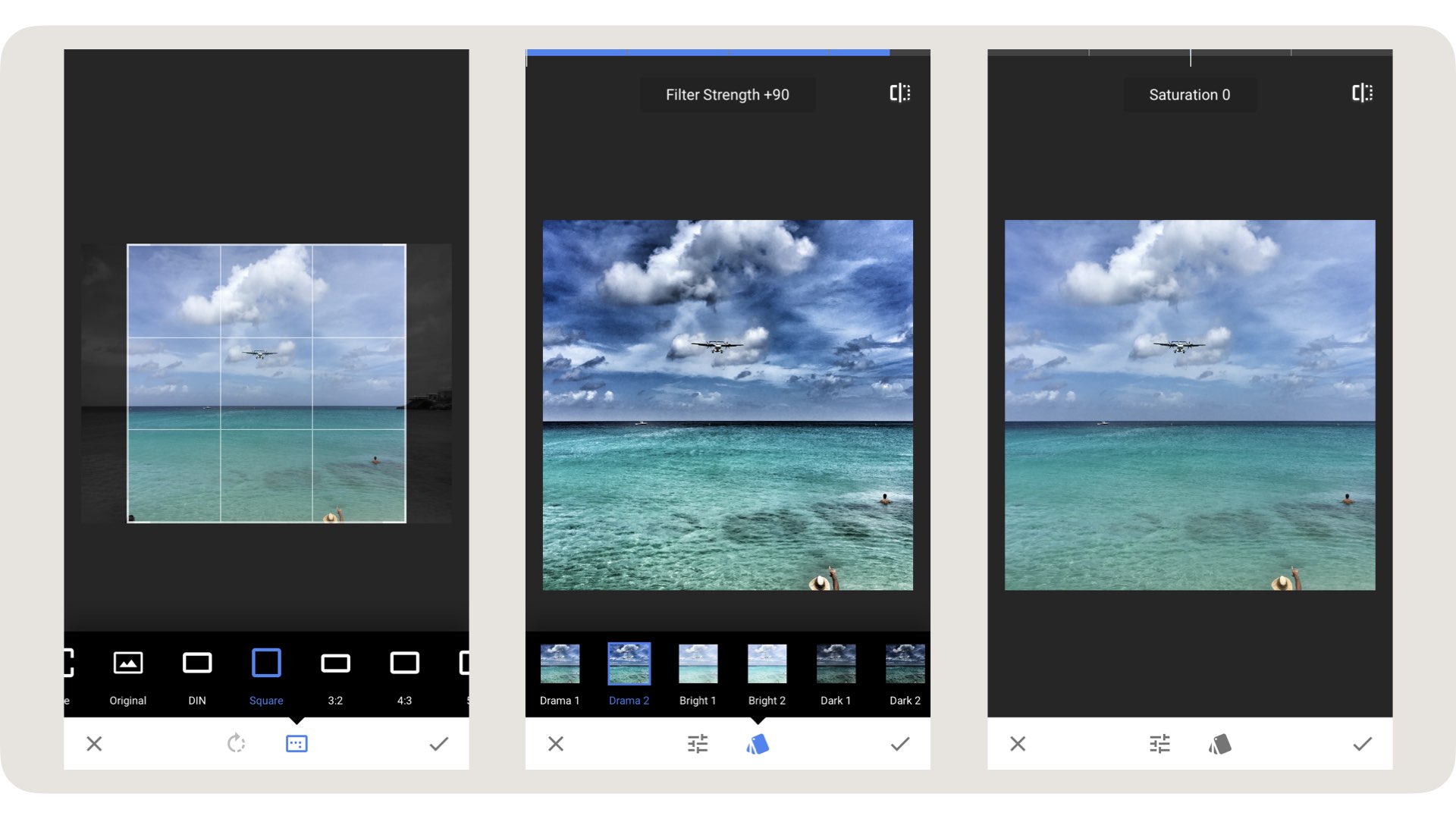 VSCO
A photo editor that is great for professional photo editing. The application has paid features, but they are unlikely to be needed by regular users – free features are enough.
Pros:
No ads.
More than 200 presets.
There are features for video editing.
There is integration with social networks.
You can add individual settings.
Works on Android and iOS.
Pixlr
The editor allows you to add many different effects to your photos, which is suitable for professionals and newcomers to photography. Pixlr allows you to combine several photos into one, create colorful collages, and change a portrait's appearance.
Pros:
Color search and object transformation features.
More than 2 million filters.
Extensive collection of art templates.
The stylization of images.
User-friendly interface.
PicsArt
It is a whole platform for photo processing with a huge selection of editing tools. It's also a separate social network where you can subscribe to your favorite photo authors and participate in creative competitions.
Pros:
You can create collages.
You can delete objects.
More than 200 different filters and fonts.
You can create videos and drawings.
Adobe Lightroom
An editor that allows you to remove defects and objects in an image, work with perspective, and add the desired effects to the photo. The app also contains a collection of video tutorials.
Pros:
Extensive collection of presets.
You can edit individual parts of the image.
There is a backup to cloud storage.
More than 150 styles.
There is training for beginners.
You'll need to register the first time you log in to the app.