iPhone cameras are perfect for you to take spectacular photos and take videos. In the modern world, in which blogging brings a lot of income, you should be able to make quality content. A simple managing of a page on social networks will require you to have the skill to make a high-quality snapshot. After that, you will be able to process it to get the most unique and beautiful result.
In order to achieve spectacular results without difficulties, free apps for iPhone will help you. In this article, we describe such programs. You can find them not only in popular app stores but also on special sites. There are many more useful programs like Apple TV+ Screeners to watch videos. However, this program is paid and not accessible to everyone. So you can choose StrymTV download as an alternative.
Adobe Lightroom
This application is a huge photo lab that easily fits in your pocket. The unique feature of this program consists in its versatility so Adobe Lightroom will be useful for photo shooting and subsequent editing. The program will help you set up a successful exposure, select the appropriate ISO and adjust the modes for the most suitable lighting.
Once you have finished the pictures, you can improve them. Adobe Lightroom will give you tools for colour, lighting and other visual parameters. If the user is not sure what is optimal, the Internet will help you to download ready-made presets especially for Adobe Lightroom. This app is completely free. So most features are available for free, but if you pay for a $5 subscription, you can take advantage of the extra features.
Focos
It is a useful program for those users who want to take cool photos with their iPhones. Its main strength is that even those photos that are made on an old smartphone will look just amazing. Focos can simulate the effects of expensive lenses and improve the quality of pictures.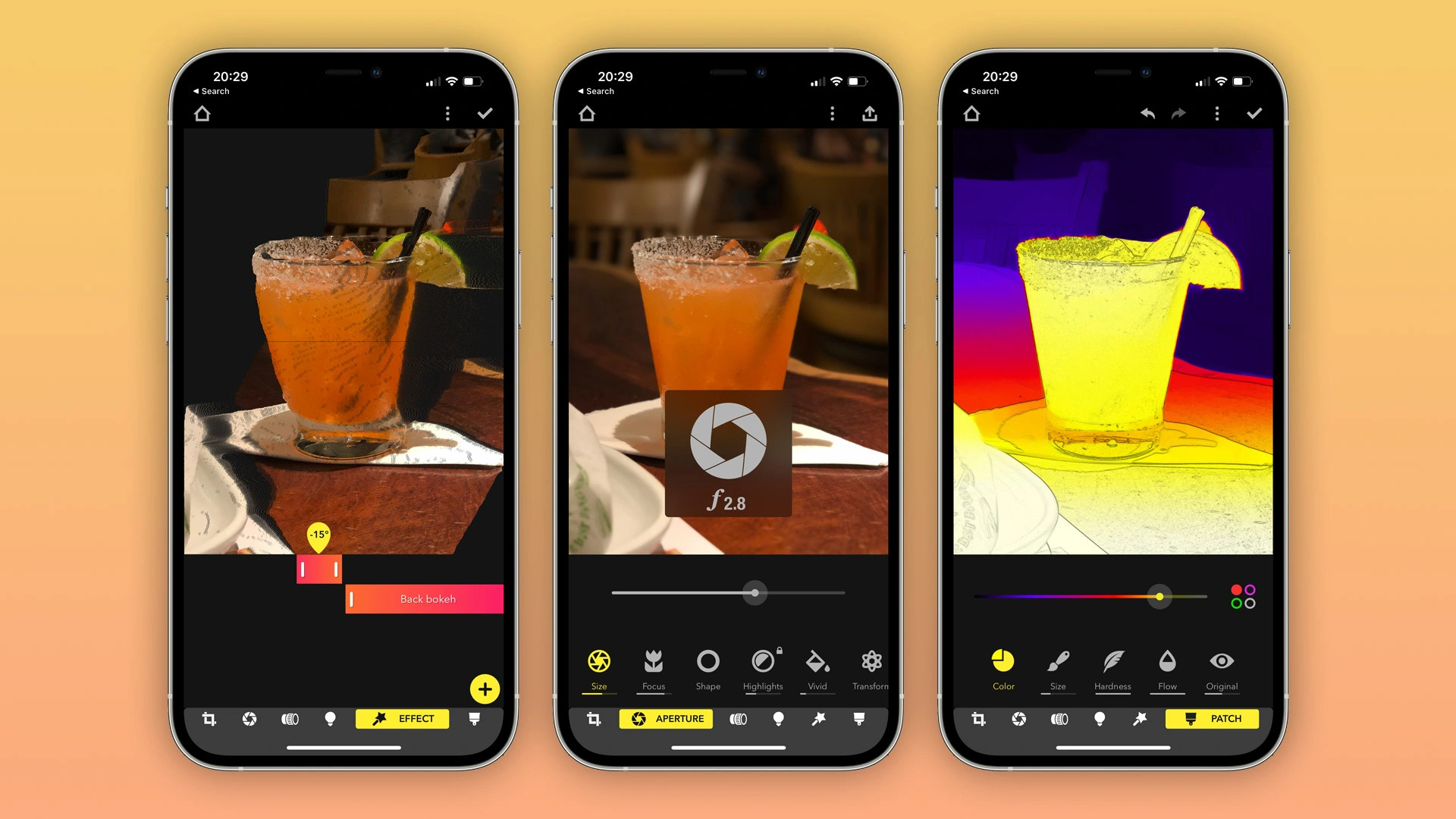 You should not forget that most of the useful tools in this program will be available after payment. Despite this, you will probably enjoy interacting with this app, but it will also bring you a lot of benefits.
Photoshop Express
This is a mobile version of a popular graphics editor. It does not compare to the PC version in terms of functionality, but you will be pleased to use it. First, its algorithms and tools are familiar to a huge number of people. Accordingly, they do not have to study the interface to see what effect will emerge after using certain functions. Secondly, Photoshop Express offers many useful tools.
That's why you can retouch your photos with this iOS/Android app. Also, there are many ready-made tools in the form of stickers, visual filters and frames.
VSCO
The main strength of this program is the abundance of ready-made filters. With their help, any photo will become more beautiful. The developers were able to surprise even the most advanced users. However, it is a paid program, but there are some free features. For this reason, you should install and try this program.
We would not be able to describe all the interesting applications in one small article for those users who often take photos and shoot videos with a smartphone. But we can mention programs like Snapseed, Enlight Pixaloop, Pro Camera by Moment, Facetune2: Best Selfie Editing, and Prisma Photo Editor.